Humanitarian & Development Data Forum

|

2020 GeOnG Forum: the full agenda is out!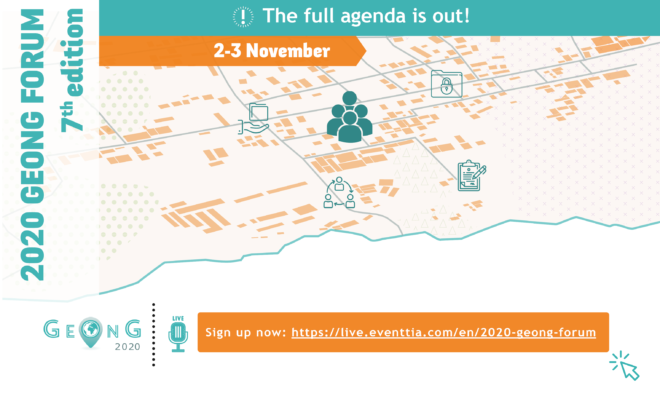 Session registration to the 2020 GeOnG Forum, taking place from November 2nd to 3rd, 2020 is now officially open! Please take 2 minutes to fill out the GeOnG registration form to attend this year's edition.
For the first ever, the forum will take place online. Expect a few twists: more participants, 25+ live sessions alongside a video library of short presentations, and most of the content accessible for free! The full agenda is out, find out what the sessions are all about here!
This year, we also hope to welcome a more diverse audience. To this end, we're doing a big push to improve accessibility to the forum for Global South actors and organizations. Learn more about it here and feel free to share the information around!
We are very pleased to announce that Ben Parker, Senior Editor at The New Humanitarian will be opening the event as keynote speaker. You can learn more about the organizations expected to attend here.
We've scheduled 10 roundtables and an experience-sharing session on the impact of the Covid-19 crisis on data practices in the aid sector. Take a look at the finalized agenda here!
The GeOnG team will also strive to offer a selection of 15+ online workshops as well as 20+ short presentations on a wide range of topics related to the theme of the 2020 edition: "People at the heart of Information Management: promoting responsible and inclusive practices". Most sessions will be conducted in English, but we will have a few workshops in French as well.
Why attend?
Our biggest edition so far: 500 participants expected online!
Free access to the conference for the majority of participants
A wide diversity of stakeholders: NGOs, IOs, donors, Global South actors, universities and more!
Watch and engage with sessions live or on your own time
Schedule time to network with fellow attendees and GeOnG sponsors & partners
Be part of the conversation on responsible data and more inclusive data management practices!
The GeOnG – the Humanitarian & Development Data Forum – is organized every 2 years by CartONG. More info on CartONG below!